Jeremy Sachoux He devoted 3/4 of his life to the guitar...the last quarter placing vinyls on the turntable.
Cedric Dufour « The back Screen Man » is a musician, designer and graphic artist. Discreet but how talented. He broke the matrix with his mouse to draw your guitars...
After 10 years spent developing and making guitars for artists from around the world, it was time for these passionate people to create a brand where the musician can take his part in the creative process of his instrument. It is from these encounters, collaborations, experiences and research that Pistol Guitars was born, instruments whose design is the result of a passion.
For us, the guitar is the armed wing, the extension of the musician. It must be reliable, accurate, controllable, ergonomic and light. It must re-transcribe the emotion of the guitarist, and especially be at his service. But let's not forget one thing: The most important is your fingers! The Mojo, you give it to the instrument: you will give it to your Pistol guitar.
Process
: Our research has led us to combine wood and aluminium in the manufacture of our instruments. We found the right balance, the right proportion between these materials to "extract"
the best
.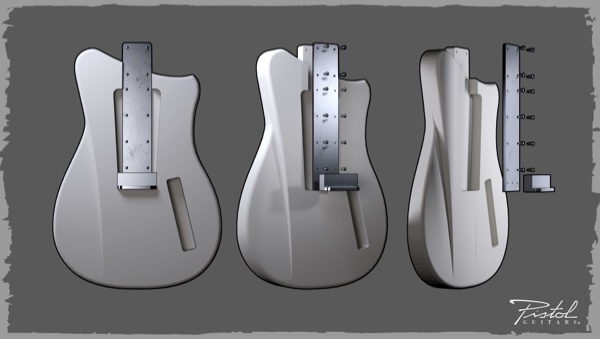 Le 80/20 : A wooden body and neck (Ash, alderor mahogany)... nothing special ! But add an internal aluminium structure to multiply dynamic, sutain and accuracy , and now you'got a completly different result... you now have a PISTOL guitar!
80 % of wood and 20% of metal.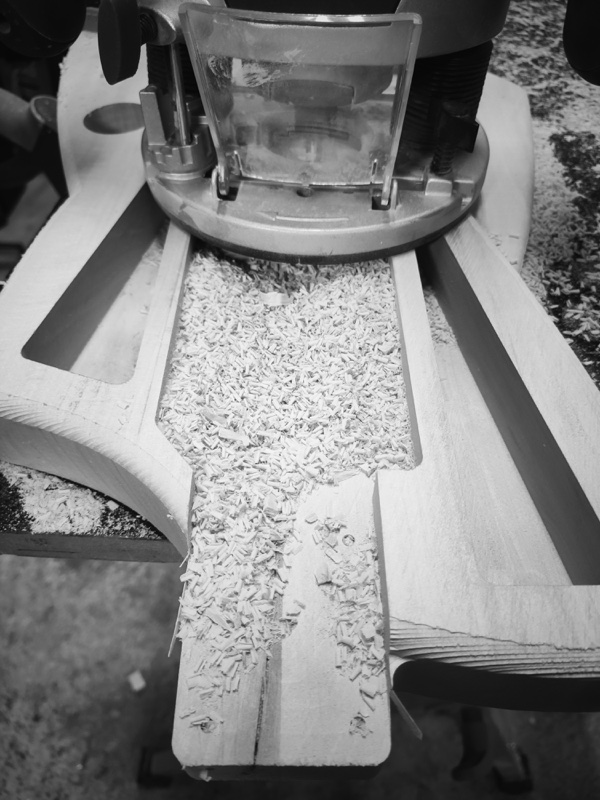 Any Questions?...The answers
The cost :

At Pistol Guitars workshop, our objective is to give musicians a high standard instrument, unique and handmade from France; all for the price of a guitar from a large scale manufacturer.
On average, standard or custom, a Pistol guitar costs between 1800 and 2700 euros.
With Pistol, the SOUND quality is highest… not the price !!
Available :
You are impatient and have already found your future musical partner :
Go to Reverb.com
Custom & made-to-measure :
Take part in the creative process of your Pistol guitar :
It's our ultimate pleasure...to have the musician, future owner of a Pistol guitar, at the heart of the creative process !
The advantage of handmade and a small company is a real privileged human relationship with its clients.
The adventure starts with an exchange by phone, email or at the workshop in order to get to know each other and define together the profile and specifications of your future Pistol.
A little bit of digital… just the necessary :
After the exchange, comes the time to digitally design your instrument. Cédric will produce a 2D model of the project.
Even if between "passionates" we understand each other, it's THE way to see what your guitar will look like and do modifications if necessary, you can "visualise" and not "imagine" your instrument.
The rest will be "analogical" because following your agreement...we will make by hand!
Ex: 2D preview/reality of a White SATORI model :

Timescale

On average, from confirmation of your order through to receipt of your guitar, the Pistol Guitars process takes between 3 and 4 months. However, this can sometimes vary according to our workload and the complexity of the model.
This may seem a bit long for the impatient, but this timescale is incompressible since a Pistol Guitars is handmade with the highest regard for quality.
For a model in stock, the timescale for deliver is one week.
Payment

Upon completion of your order you will be asked to pay a deposit of 30% and, at the mid-point of manufacture, a further payment of 30%. The remaining balance will be payable upon delivery.
Please note that we are happy to accommodate other, mutually agreeable financial arrangements.
Methods of payment

-By Bank check (issued by a bank domiciled in France) made payable to:
Pistol Guitars – 19 Rue Haute 21500 Viserny - France
-By Bank Transfer
-By Paypal
We ship worldwide and work with carriers UPS, DHL and DPD.
The shipping costs vary, as follows:

€60 for delivery in Metropolitan France (Shipping + insurance)
€75 for delivery in Europe (Shipping + insurance)
€150 for delivery in USA (Shipping + insurance)
€175 to €200 for a delivery elsewhere in the world (Shipping + insurance)
 

Should you require any further information, want an accurate quote for your PISTOL Guitars, or wish to acquire a model in stock, please contact us by email or by phone at (+33) (0) 6.72.28.31.61.
In person, by visiting the workshop, which is open from Monday to Saturday (please contact us in advance to arrange a visit).
All roads lead to the PISTOL Guitars workshop:

-By road: A6 - exit the Bierres Semurs (We are 15 minutes' from the motorway exit)

-By train: TGV - Montbard train station is 10 minutes from the workshop, 1 hour from Paris via Lyon station.

-If you have a plane, there's even a Aerodrome 10 minutes' from the workshop ...

You're welcome !!!